Every life is a miracle.
"Before I formed you in the womb I knew you, and before you were born I consecrated you…"

Jeremiah 1:4
Every human life is sacred from conception until natural death. We recognize and honor this truth with the construction and dedication of The Miracle of Life Rosary Garden.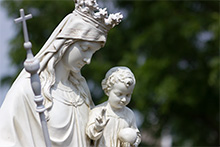 The Rosary Garden walkway is constructed with nearly 5,000 bricks, each one available for custom engraving. Every aspect of the Rosary Garden, from the choice of statues to the shape of the walkway and fountain base, from the colors of the flowers to the placement of the planters, has a specific meaning and purpose.
Through the intercession of our Blessed Mother and those unborn Saints to whom this Rosary Garden is dedicated, our hope is that this place will become a place of miracles. Our Lady, Help of Christians – Pray for us.